I have a back log of recipes to share, but I'm skipping the taco salad with homemade cilantro salad dressing, chicken breast stuffed with goat cheese, and I'm even jumping over the best sheet cake ever for another delicious sweet treat. Yep, this recipe is that worthy. These cupcakes are amazing!
Really, I'm not exaggerating.
A-MA-ZING
Strawberry Cheesecake Cupcakes are so FREAKIN' delicious! I really, really want to see your happy food dance joy when you take a bite. Send me a picture, wont you?
These little lovelies were inspired by a local cupcake shop called Fluff Cupcakery (cute name, huh?). This itty bitty storefront features different flavors in their shop for only a week or it might be two weeks before moving on to another type. Regardless, the day I went in was their last day making these beauties!
I was trying to contain my watering mouth before my salivary glands went straight down to drooling as I began thinking about biting into a cupcake laced with fresh strawberries!
I pulled down the liner and positioned my cupcake so I could get a bite from the side to avoid the nose in frosting scene, and WOWZIE!! I sunk my teeth in the moistest white cake ever, and then had an OMG moment when I tasted the graham cracker crust! I wasn't expecting the contrast of all the flavors; fresh berries, vanilla cake on top of a graham cracker crust to work so well together. I can't remember what the frosting tasted like because the remaining cupcake was inhaled, but the combination definitely worked! From that moment on, my recipe mission began. I wanted to replicate that cupcake.
It didn't take me too long to find some guidelines. I bookmarked a couple of recipes from a few sites and pulled my ideal Strawberry Cheesecake Cupcake together. This recipe is a KEEPER!
Graham Cracker Crust
1 ½ cup of prepared graham cracker crumbs or make your own by blending in a food processor approximately a sleeve of whole graham crackers
7 Tablespoons butter, melted
Preheat oven to 350F. Combine graham cracker crumbs and melted butter. Put a tablespoon on the bottom of each cupcake liner and pat down with your fingers. Bake for 3-5 minutes or until slightly browned.
 Strawberry Cupcakes
2 ¾ cups all-purpose flour
¼ cup cake flour
1 Tablespoon baking powder
1 tsp salt
1 cup unsalted butter
2 ¼ cups granulated sugar
1 ½ teaspoons vanilla
3 eggs
1 egg white
1 cup whole milk
2 cups finely chopped fresh strawberries and extra for garnishing
Follow Martha's directions here.
The batter makes quite a bit. It is enough for about 30 cupcakes, but I made 24 and had enough to make my son's girlfriend a mini birthday cake.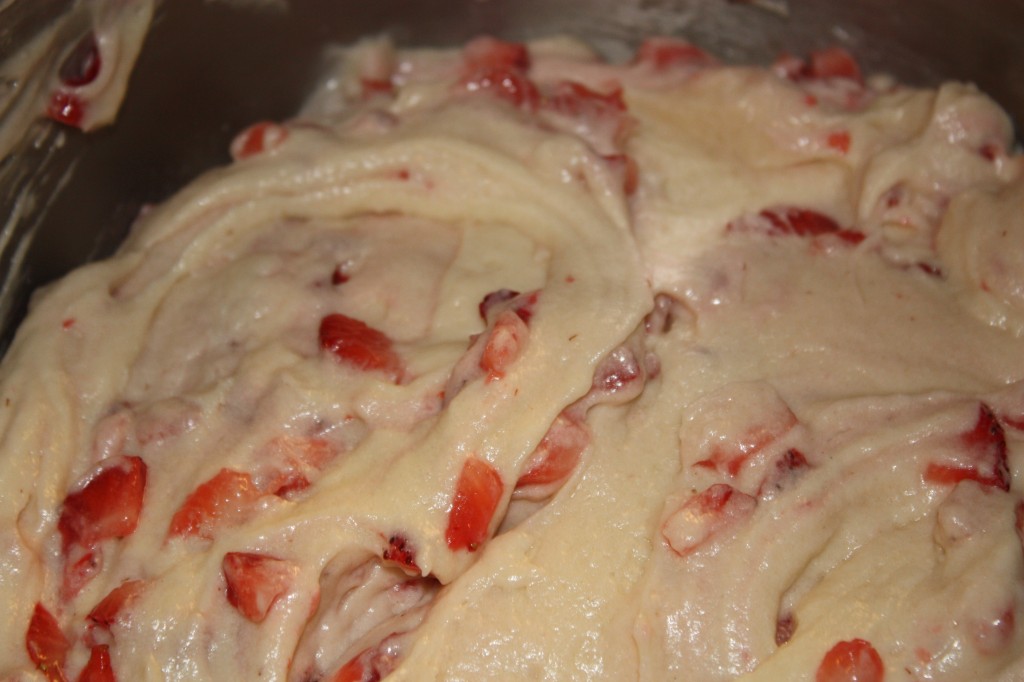 Gently fold the strawberries into the batter.
Strawberry Cream Cheese Frosting
2 sticks butter (16 TBL total), softened at room temperature
2 blocks cream cheese (8 oz. each, 16 oz total), softened at room temperature
3 ½ cups confectioners sugar, sifted (I didn't, but you should)
1 teaspoon vanilla
1 ½ cups chopped strawberries, puréed
In a large bowl combine the butter, cream cheese, and vanilla beating until blended and homogenous. On low, slowly add the sugar. Once blended, beat on high until the frosting is light and fluffy. Fold in the pureed strawberries and refrigerate for about an hour before topping the cupcakes.
Recipes inspired from here and here
Strawberries are still plentiful. Go get some!
~Sandra
Fresh Strawberry Cheesecake Cupcakes
Author:
Sandra @ The Foodie Affair
Ingredients
STRAWBERRY CUPCAKES
2 ¾ cups all-purpose flour
¼ cup cake flour
1 Tablespoon baking powder
1 tsp salt
1 cup unsalted butter
2 ¼ cups granulated sugar
1 ½ teaspoons vanilla
3 eggs
1 egg white
1 cup whole milk
2 cups finely chopped fresh strawberries and extra for garnishing
Instructions
#instruction#